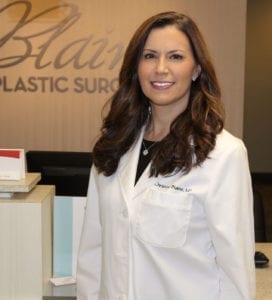 Christine Blaine, M.D., F.A.C.S. is a board certified plastic surgeon based out of New York, with offices in both Huntington and Staten Island. Dr. Blaine earned her Bachelor's degree in Psychobiology from Binghamton University, where she began her medical career working as an Emergency Medical Technician and instructor. It was during this time in her life that she developed an appreciation for the psychological and emotional facets of patient care, forming her personal philosophy of treating not just the body but the individual as a whole.
Prior to starting medical school, Dr. Blaine first practiced as a Physician's Assistant at Memorial Sloan Kettering in both Thoracic surgery and caring for post-operative plastic surgery patients. As her passion for medicine flourished as a PA, so did her eagerness to further her studies which brought her to medical school at Albany Medical College.  There she received the prestigious Brandon Macomber award, given to the person who best exemplifies genuine sustained interest and potential in the field of plastic surgery. After graduating from medical school, she completed her residency at Lehigh Valley Hospital, a competitive position in a Level I Trauma Center, and focused on a combination of general surgery and plastic surgery.
Now in private practice, Dr. Blaine frequently participates in research and is a published author in the Annals of Plastic Surgery.  She has presented her work at national meetings such as the Northeast Society of Plastic Surgeons and is an active member of the American Society of Plastic Surgeons and the American Academy of Plastic Surgeons. Her academic work has most recently been focused on a woman's decision making process concerning breast reconstruction after breast cancer.  She is affiliated with several local hospitals and actively sees ongoing in-patient and emergency cases there.
Dr. Blaine's mission is to treat the individual patient as a whole, providing the highest level of comprehensive cosmetic, plastic and reconstructive surgical and non-surgical care. She has built her practice to reflect this intention and the concern that patients feel comfortable with their physician, their treatment plan and their entire experience.
As a native New Yorker,  Dr. Blaine is proud to offer three convenient office locations – one in Huntington, one in Staten Island and one In New York, New York.  All of our offices provide plenty of free parking and are also easily accessible by LIRR and/or MTA bus services.
Dr. Blaine is wife to husband Tom, and mom to three toddlers – a son and twin girls. In her time off, she and her husband enjoy running and water sports and love introducing these healthy activities to their children.
Learn How Dr. Blaine Can Help You
Board certified plastic surgeon Dr. Christine Blaine strives to provide the highest level of comprehensive cosmetic, plastic, and reconstructive surgical and non-surgical care with a strong focus on enabling patients to achieve their medical, health, and aesthetic goals. Her patients can look forward to gaining self-confidence and a sense of well-being from looking, feeling and functioning at their very best.  Call (631) 470-2000 to learn how Dr. Blaine and her team can help you achieve your goals.