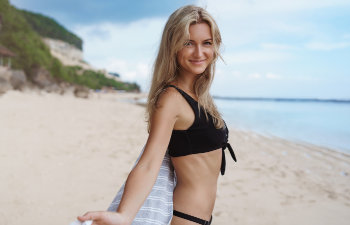 Did you spend the summer hiding your upper arms instead of wearing sleeveless outfits? The upper arms are a trouble spot for many people, especially women. Whether you have the beginnings of "bat wings" or have issues getting the toned upper arms you desire, surgical and non-surgical cosmetic procedures are available. Here are five of the arm-shaping methods we offer at Blaine Plastic Surgery.
1. EmSculpt for Toned Arms
If you have slim arms but not enough definition, consider exploring EmSculpt treatments. This non-surgical procedure stimulates muscle contractions to create toned, sculpted muscles. EmSculpt uses highly-focused electromagnetic energy to contract the muscles up to 20,000 times per 30-minute session. This is the ultimate way to achieve firmer, sexier arms that will look amazing in your sleeveless shirts or dresses.
2. Arm Liposuction
Genetics determine where your body will store fat. You can be a healthy weight and still have heavy upper arms, often referred to as "matronly." Arm liposuction is ideal for those with good skin elasticity but excess fat on their arms. Small incisions can be placed discretely under the arms to remove fat for slimmer arms. Once fat cells are removed, they do not regenerate, permanently reshaping your arms.
3. BodyTite Treatments
Do you have sagging skin and fatty tissue on your upper arms? Whether you are getting older or lost weight, your upper arms are prone to loose, hanging skin. BodyTite treatment is a minimally-invasive skin tightening and fat removal procedure that can stimulate collagen production in the skin and tissues of the upper arms while removing subcutaneous fat. BodyTite uses RF energy to heat the skin and fat; then, a cannula removes liquified fat. This is an ideal procedure for those who want to avoid arm lift surgery.
4. CoolSculpting
Another way to remove fat deposits from the upper arms without surgery is a CoolSculpting procedure. CoolSculpting uses cold energy to "freeze" fat cells, which destroys the cells and shrinks the targeted area. CoolSculpting for the upper arms is ideal for those that want to reduce the fat on their arms by up to 25% but still have good skin elasticity. The procedure can be performed without general anesthesia; no downtime is required.
5. Brachioplasty (Arm Lift)
If you have excessive fat and loose skin on your upper arms, brachioplasty is the optimal procedure for reshaping, slimming, and firming. Arm lift surgery removes fat and excess skin to restore tighter upper arms. This is the best procedure for older individuals with poor skin laxity or those who have had massive weight loss.
If you want firmer, shapely upper arms, many options are available to achieve your desired look. To learn more about cosmetic treatments and surgery for beautiful upper arms, contact our team at Blaine Plastic Surgery. We have offices in Huntington, Staten Island, and NYC, NY. Call the location nearest you to schedule a consultation with Dr. Blaine.
Posted on behalf of Blaine Plastic Surgery
HUNTINGTON, NY
775 Park Avenue Suite 205
Huntington, NY 11743
Get directions
Phone:

Fax:
STATEN ISLAND, NY
1504 Richmond Road
Staten Island, NY 10304
Get directions
Phone:

Fax:
NEW YORK, NY
535 5th Ave, 30th Floor
New York, NY 10017
Get directions
Phone:

Fax: