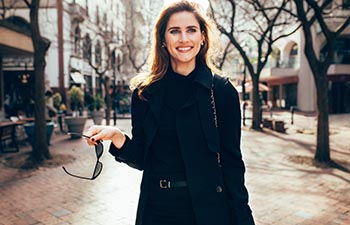 Have you noticed your skin losing its natural glow? Years of damage to your skin, including exposure to the sun, menopause, unhealthy eating, stress, and cigarette smoking can all be contributors to your now lackluster complexion. Although you can't control the way age affects your skin, you can control the other factors that leave your skin looking dull and tired. Improve your skin and get your natural glow back by following these six great skin care tips!
Tips for Natural, Glowing Skin
1. Practice Sun Safety
Sun exposure is a major contributor to damaged skin, but with the right skin care precautions, you can stay protected from the sun. A great way to protect your skin is by using Elta MD! This chemical-free, natural sunscreen is oil-free with just a touch of color that provides sun protection for every skin type and lifestyle. Water-resistant, this sunscreen will last all day long – withstanding water, humidity, and perspiration.
2. Use a Skin Care Serum
Skin care serum is a lightweight formula with a host of active ingredients targeted to address concerns like wrinkles or pigmentation. Serums deliver the active ingredients into the deepest layers of your skin where the changes in your skin take place. However, serums only offer minimal moisture, so it's best to use them along with a moisturizer. A serum can be applied morning, night or both, but the best way to apply it is after cleansing and before moisturizer, sunscreen, and makeup. One of the best serums is Image's MD Reconstructive Serum. It's a unique daily hydrating serum with a complex of stabilized Vitamin C (Tri-C Complex™) protects skin from reactive oxygenated species (ROS). Also combats aging effects with a high concentration of anti-oxidants. Lightens, tightens, and brightens in one simple application.
3. Moisturize, Moisturize, Moisturize
What's the key to amazing, glowing skin? Moisturizing! Moisturizing is an important factor in your daily skin care routine. If you leave moisturizer out of your routine, not only will your skin get dry, but it will also cause your complexion to look dull and flaky as well as lead to deeper wrinkles later on. But you can't just use any moisturizer! Look for a day cream with an SPF 30 or higher. One of our favorites, including Miss USA 2015, is Image's Prevention+ it's not only a daily skin moisturizer but also a built-in broad-spectrum UVA/UVB sun protection.
For your skin to look its absolute best don't forget a night cream! It will give your skin the adequate hydration it needs and also stimulate collagen production, leaving your skin looking fresher when you wake up. A good night repair cream is Image's The Max Stem Cell Crème. Its corrective peptides relax facial expressions reducing the formation of wrinkles. It also contains a natural marine plant-based tightening complex that will smooth the skin and leave it more radiant.
4. Eat a Healthier Diet
Healthy skin always starts with a healthy diet. If you eat the right foods, your skin will appear brighter and healthier, but if you're eating junk food prepare for your skin to look dry and lackluster. For a better complexion, start eating skin superfoods! Packed with vitamins – almonds, carrots, spinach, tomatoes, dark chocolate, flaxseeds, and safflower oil are incredible for your skin and your health. Each superfood serves a purpose to protect your skin from harmful rays, breakouts and dry, flaky and itchy skin. Start eating better, and you'll be delighted when your skin starts to have a natural glow again.
5. Drink More Water
Make your skin glow by drinking more water! Drinking water can help nourish your skin, prevent it from looking dull and tired and get rid of harmful toxins. Drinking at least eight glasses a day will help you see improvements in your complexion, but also make sure you carry a water bottle with you throughout the day, especially if you're building up a sweat at the gym! It's always better to drink more water when you're exercising to rehydrate your body and skin.
6. Get That Glow with Halo, The World's First Hybrid Fractional Laser
Get back your glow with Halo! Halo gives you the results you want without the downtime you would expect. Some of the benefits include improvement in the appearance of discoloration, texture, fine lines, wrinkles, pore size, scar revision, increased reflectivity and glow. There is no other treatment like it, Halo can eliminate years of damage by precisely targeting the right depth. Restore that luminous glow you had when you were younger. Just ask Sharon Osbourne, a satisfied customer of the Halo.
Get Your Glow Back with Dr. Blaine
Wow your friends and family with your new youthful appearance by getting the Halo Glow treatment at Blaine Plastic Surgery! Dr. Blaine will precisely target all of the years of damage to your skin, including discoloration, sun damage, signs of aging, uneven skin tone and more to get back your glow. We also offer Elta MD in both of our two New York locations so your skin can stay protected from the sun. Schedule an appointment with Dr. Blaine to get your natural glow back by calling (631) 470 – 2000 today!
Posted on behalf of Blaine Plastic Surgery