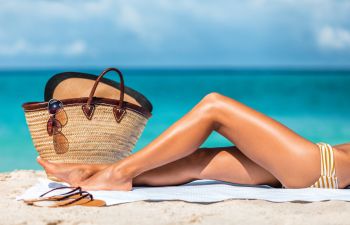 Some women work out and diet to achieve the perfect figure. Unfortunately, certain body areas will not respond to all the work you put in. For example, the thighs can harbor fatty deposits and suffer from excess skin. No amount of time at the gym or watching what you eat is likely to resolve these problems.
If you have lost a lot of weight through dieting and exercise, the skin around your thighs will loosen. Tightening this skin will result in a smoother appearance. This procedure is usually combined with liposuction to remove excess fat and achieve desirable contouring.
Thighplasty
Thighplasty is another name for a thigh lift procedure. A general anesthetic is used during this procedure. The first step involves one or two small incisions that allow your plastic surgeon to perform liposuction.
Further incisions are performed to complete the thigh lift by tightening and smoothing skin. Your thighs will have an aesthetically slimmer look, matching all your gains through your diet and fitness regimen.
Contouring plays a key role in the thigh lift procedure. However, removing fat and tightening skin is not enough to achieve your desired figure. An additional procedure called Cellfina is often needed to reduce or eliminate the appearance of cellulite.
Thigh Lift Recovery
You can expect to return to normal activities within a week of your treatment. Swelling and pain are expected after your surgery and call last up to 2 weeks. If you continue to diet and exercise, the figure you achieve with a thigh lift may become permanent.
Those who lead a healthy lifestyle are the best candidates for a thigh lift. Therefore, a consultation at Blaine Plastic Surgery is recommended in New York City. Our team has created a friendly and welcoming environment under the leadership of Dr. Blaine.
Thigh Lift Consultation
If you are struggling to shift fat in your thighs, have saggy skin, or suffer from cellulite, Blaine Plastic Surgery would like to invite you to a consultation. Reach out to our Midtown offices to make your first appointment with Dr. Blaine today.
Posted on behalf of Blaine Plastic Surgery