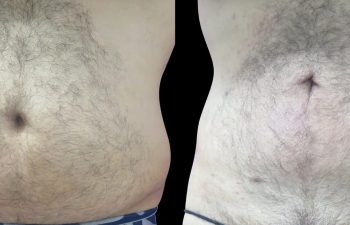 Men are often judged by the shape, size and appearance of bodily features. While exercise and diet can go a long way toward correcting perceived flaws, stubborn fat often shatters the illusion of a perfect physique. This may be due to genetics, age or lifestyle choices such as drinking and smoking. Whatever the case, liposuction for men is an effective solution in many cases.
Body contouring is one of the main goals of working out. When you are grinding away at the gym and not seeing perfect results, the issue may stem from factors outside of your control. As a quick and relatively non-intrusive procedure, liposuction can remove that hard-to-remove fat.
Liposuction Goals for Men
The aim of liposuction is not only to remove fat but to achieve a sculpted physique. If you want to look slimmer and more toned, this procedure can help you reach those goals. As fat is removed, Dr. Blaine will use her extensive skills as a plastic surgeon to contour your body for a more appealing aesthetic.
Liposuction for men is performed either with local anesthetic or general anesthetic, depending on the needs of the patient. A small needle is used to remove excess fat, which can be harvested to perform a fat-grafting procedure on the same patient. For men who suffer from visible imperfections due to subcutaneous body fat, there are several effective solutions in New York.
Areas Affected by Excess Fat
Love handles are a bodily feature that many men and women find attractive. If you are not one of those people, liposuction can help you regain confidence in your physique. Areas that will benefit include the double chin, sagging six pack, bulging waistline and unsymmetrical bodily features.
Liposuction is an ever evolving set of procedures that has applications for most areas of the human body where excess fat gathers. Dr. Blaine can take you through a consultation process to confirm whether you are a suitable candidate, and set expectations for likely outcomes.
Call Blaine Plastic Surgery today if you are interested in learning more about liposuction for men. We are committed to helping all our patients in New York through every stage of their journey towards aesthetic perfection.
Posted on behalf of Blaine Plastic Surgery
HUNTINGTON, NY
775 Park Avenue Suite 205
Huntington, NY 11743
Get directions
Phone:

Fax:
STATEN ISLAND, NY
1504 Richmond Road
Staten Island, NY 10304
Get directions
Phone:

Fax:
NEW YORK, NY
535 5th Ave, 30th Floor
New York, NY 10017
Get directions
Phone:

Fax: