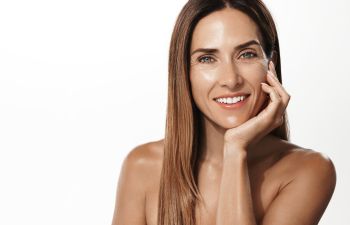 Do you have discolorations, uneven skin tone or evidence of sun damage on your skin? Most people notice changes to their skin tone as they get older, especially those who have enjoyed many days in the sun. UV rays and aging can change the appearance of your skin, but laser treatments can reverse some of the effects. At Blaine Plastic Surgery, we offer broadband-light (BBL) Photofacial treatments to rejuvenate aging skin.
What Is a BBL Photofacial?
Light energy can be used to safely make changes to the skin. Just like harmful UV rays can damage the skin, broadband light (BBL) or intense pulsed light (IPL) can be used to remove the skin damage. BBL Photofacial treatments are efficient at reversing sun damage to the skin. The specific light energy targets discoloration on the skin and creates evenly toned, younger-appearing skin. The BBL Photofacial is an excellent choice for individuals that want to combat:
Brown, age or sun spots
Uneven skin tone
Hyperpigmentation
Fine lines or wrinkles
Crepey skin
Visible sun damage
Uneven texture
Redness or ruddiness
BBL Photofacial treatments are non-invasive and can usually be completed within one hour. There is little to no downtime needed – the light treatment is comfortable, and patients can return to most normal activities after their procedure. There is very little recovery needed for the skin – most patients experience a little redness or flaking for about 24 hours following their procedure, but makeup can be worn the next day. To remove sun damage, brown spots, redness and discolorations, it may require a series of 2-3 treatments or more over a few months.
BBL Photofacial treatments can rejuvenate aging skin or erase some discolorations on the skin. Many of our patients enjoy smoother, more youthful skin and an improved complexion from their series of Photofacial treatments. If you are interested in learning more about our rejuvenating skin treatments, contact us at Blaine Plastic Surgery. We have locations in Huntington, Staten Island and Manhattan, NY – call us today to schedule a skin consultation at one of our clinics near you.
Posted on behalf of Blaine Plastic Surgery