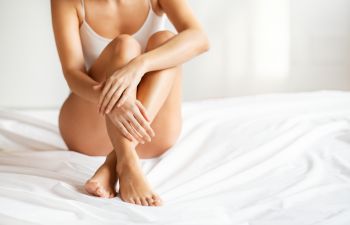 It can be challenging to find sufficient time in the day to commit to a workout regimen that results in the physical perfection we would like to see, with the demands of work, family and social obligations.
But sometimes, even if you find the time to exercise and diet, you still have stubborn fat pockets. However, there are simple, safe and effective body sculpting methods like CoolSculpting® that can help you get rid of stubborn fat deposits caused by age, lifestyle choices and genetics.
How Does CoolSculpting Work?
CoolSculpting is the only non-invasive, fat reduction treatment approved by the Food and Drug Administration. This could be the solution you need if you have trouble losing weight despite your best efforts.
A significant advantage of CoolSculpting is that it is a non-invasive procedure requiring no recovery time. In fact, the treatment is soothing! You can read a book or shut your eyes and fall asleep.
CoolSculpting cools fat cells to four degrees, destroying them. Because fat freezes at a higher temperature than other body tissues, this method can safely remove fat from the body without harming the skin or other surrounding tissues and structures. The treatment initiates fat cell death; then, the fat cells are metabolized by your body. Therefore, the results are permanent if you maintain a constant weight and healthy lifestyle.
Where On the Body Can You Get the CoolSculpting Treatment?
The method can be tailored to your specific regions of concern. Proven one of the most effective treatments available, it can reduce fat deposits by as much as 25%.
A pad is put on the skin before the treatment begins to shield it from potential damage. The next step is to apply the CoolSculpting handpiece to the desired locations; this tool is precisely shaped to cover their contours. The affected area will feel numb after being cooled for a few minutes.
During the process, the fat cells beneath the skin are cooled in a perfectly controlled way. The treatment crystallizes the fat cells and destroys them, so the body can metabolize the fat and get rid of the dead cells in a usual manner. You will emerge from this experience feeling more toned and chiseled than ever before.
Reserve a CoolSculpting Session Today!
Getting your most extraordinary body without pain or downtime is easier than ever. Blaine Plastic Surgery is a CoolSculpting Preferred Provider because of the consistently excellent results they achieve for their patients. You can reach our office by phone or on the web if you have questions or would like to schedule a CoolSculpting consultation.
Posted on behalf of Blaine Plastic Surgery
HUNTINGTON, NY
775 Park Avenue Suite 205
Huntington, NY 11743
Get directions
Phone:

Fax:
STATEN ISLAND, NY
1504 Richmond Road
Staten Island, NY 10304
Get directions
Phone:

Fax:
NEW YORK, NY
535 5th Ave, 30th Floor
New York, NY 10017
Get directions
Phone:

Fax: