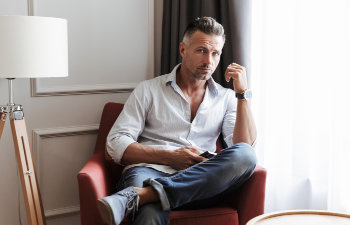 Are you tired of dealing with stubborn pockets of fat that won't budge? If so, you're not alone. Many men face this frustrating challenge to achieve their ideal physique.
Fortunately, a non-surgical solution can help you finally conquer those trouble spots. At Blaine Plastic Surgery in NYC, we're here to guide you toward your dream body using CoolSculpting.
How CoolSculpting Works
CoolSculpting is an FDA-approved, non-surgical fat-reduction treatment that permanently eliminates fat cells. The process is surprisingly simple and effective. During a CoolSculpting session, precise cooling is applied to target subcutaneous fat cells.
This cooling action freezes and crystallizes the fat cells, effectively killing them. Your body then naturally processes and eliminates these fat cells through a process called cryolipolysis. The best part? The results are permanent, with up to a 25% reduction in the treated area after each session.
Customized Treatment Plans
At Blaine Plastic Surgery, we understand that each patient is unique. That's why we create customized treatment plans to address your specific concerns and aesthetic goals. Whether you're troubled by excess fat in your abdomen, flanks, thighs, back, arms, or under the chin, CoolSculpting can produce excellent results.
Our expert team, led by Board Certified Plastic Surgeon Dr. Christine Blaine, will work with you to determine the number of treatments needed to achieve your desired body contour. We emphasize that maintaining your CoolSculpting results involves a stable weight and a healthy lifestyle, including proper diet and exercise.
Recovery and Convenience
One of the most significant advantages of CoolSculpting is the convenience it offers. There's absolutely zero downtime required after a session. Each treatment cycle lasts only 35 minutes, making it a perfect "lunchtime" procedure.
Many of our patients even use the time to read, catch up on work, or enjoy some Netflix. You can quickly return to your daily activities without any disruption.
Who Should Consider CoolSculpting?
CoolSculpting is an ideal option for both men and women seeking non-surgical fat reduction in areas that have been unresponsive to other efforts. The best candidates are those who have a stable weight and are committed to a healthy diet and exercise routine.
If you're ready to say goodbye to those stubborn fat pockets and welcome a more sculpted physique, CoolSculpting could be the solution you've been looking for.
Experience CoolSculpting at Blaine Plastic Surgery
CoolSculpting is for men in New York looking to lose inches in problem areas and achieve a more chiseled physique. Blaine Plastic Surgery is your go-to destination for all your body-sculpting procedures.
We are proud to be recognized as a Preferred Level CoolSculpting Provider, a distinction earned through consistently positive patient outcomes across all treatment areas.
Contact Blaine Plastic Surgery online or call (631) 470-2000 to schedule your consultation with one of our CoolSculpting experts. Let us help you take the next step toward your ideal body and a newfound confidence.
Posted on behalf of Blaine Plastic Surgery