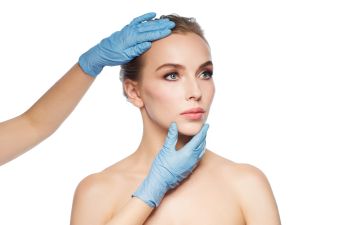 As people, each of us has a relationship with who we are that is complicated due to various factors. Outward appearances do not always tell the full story. Facial features may make you feel lesser or uncomfortable with your appearance. Therefore, changing outward appearances is often a way for people to feel more comfortable in their own skin.
Facial Plastic Surgery
In the field of plastic surgery, amazing transformations are possible with specialist care. Regardless of what part of your face you might want to change, there are solutions available in NYC. Dr. Christine Blaine, MD, FACS is a board-certified female plastic surgeon who offers a range of treatments that can help you achieve your aesthetic goals.
Every facial feature plays a role in creating the outward illusion of how you want to look, for yourself and others. Whether you want to soften or sharpen features, Dr. Blaine has the skills to deliver excellent results. At Blaine Plastic Surgery, we are passionate about patient-guided outcomes.
Dr. Blaine can provide a stronger jawline for men or reduce the impact of this prominent facial feature in women. If your cheeks do not have the contour you would prefer, our team can offer augmentation procedures that will create new balance and symmetry.
Plastic Surgery Consultation
To find out if augmentation of facial features from Blaine Plastic Surgery is right for you, we offer a comprehensive consultation. During this session, you will have the opportunity to ask questions about procedures, outcomes, recovery and any of the other procedures and treatments that we offer. Blaine Plastic Surgery will always take the time to discover exactly what you hope to achieve.
Dr. Blaine wants to ensure that you receive all the support you need, whether you simply wish to make changes to facial features for improved confidence or completely change your facial appearance. Call our offices in NYC today to book your consultation and take the first steps toward realizing the real you. We look forward to standing by your side through every stage of your journey.
Posted on behalf of Blaine Plastic Surgery
HUNTINGTON, NY
775 Park Avenue Suite 205
Huntington, NY 11743
Get directions
Phone:

Fax:
STATEN ISLAND, NY
1504 Richmond Road
Staten Island, NY 10304
Get directions
Phone:

Fax:
NEW YORK, NY
535 5th Ave, 30th Floor
New York, NY 10017
Get directions
Phone:

Fax: