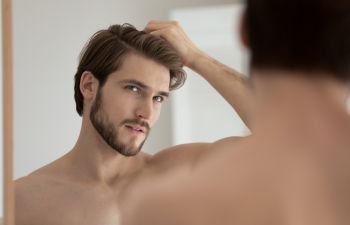 Men deserve to feel good about their appearance. With facial rejuvenation, you can discreetly freshen up features such as the skin, lips, cheeks and brow. Improving your aesthetic appeal could open doors to new opportunities in NYC.
Whether you want to maintain a masculine look or soften your features, Blaine Plastic Surgery has solutions. We are committed to helping our male patients achieve rejuvenation goals. Most of our procedures as minimally invasive, quick and do not require downtime.
Minimally Invasive Facial Rejuvenation
Surgery typically results in downtime, which may mean time off work. Invasive procedures may also impact your lifestyle. Recovery takes time and there is a greater risk of complications. You will need time to heal, which is often a painful process.
With minimally invasive procedures, downtime is limited or non-existent. Patients can benefit from procedures that typically take less than half an hour. When you leave our New York Blaine Plastic Surgery offices, you will look and feel much younger.
Botox® is an excellent option for achieving smoother skin. If you are suffering from sunken features, we recommend dermal fillers. Lose that double chin with Kybella® injectables from Blaine Plastic Surgery. We also offer chemical peels, laser resurfacing and Microneedling to improve the overall appearance of skin.
Cosmetic Procedures for Men
Many men work in industries that result in facial skin and features that are prematurely aged. If you feel like your looks have withered, Blaine Plastic Surgery can reverse the damage. The good news is, your friends and family won't even know that you have had treatment.
We are committed to ensuring that results are subtle. You will look fresher with smoother and healthier skin. Dr. Blaine, FACS is a board-certified plastic surgeon. Male and female patients can benefit from a range of minimally invasive procedures at her New York practice.
Male Plastic Surgery Consultation
Attend a consultation at Blaine Plastic Surgery to discover which treatments will work for you. We can enhance specific facial features or use procedures designed to promote rejuvenation. Dr. Blaine is an approachable and dedicated professional. You will feel comfortable and comfortable throughout the process.
Call Blaine Plastic Surgery today if you have questions about male cosmetic treatments.
Posted on behalf of Blaine Plastic Surgery
HUNTINGTON, NY
775 Park Avenue Suite 205
Huntington, NY 11743
Get directions
Phone:

Fax:
STATEN ISLAND, NY
1504 Richmond Road
Staten Island, NY 10304
Get directions
Phone:

Fax:
NEW YORK, NY
535 5th Ave, 30th Floor
New York, NY 10017
Get directions
Phone:

Fax: