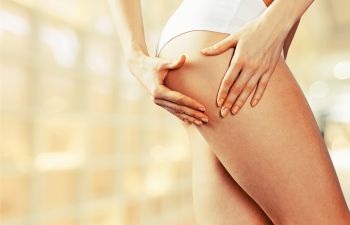 Do you have unwanted cellulite you cannot get rid of, even with a good diet and workout routine? It is a common problem. Removing those dimples is a challenge. Topical creams are not long-lasting (if they work at all), leaving surgery as the best choice – until now. At Blaine Plastic Surgery, we offer a revolutionary injectable butt cellulite treatment called Qwo™ that can give you the smoother skin you so desire.
What Is Cellulite and Why Is It So Persistent?
Cellulite is an entirely normal and natural condition resulting from body fat and connective tissue distribution. Body fat puckers and lumps as it presses through the connective tissue beneath the skin. It is merely a fault in how body fat shapes in specific regions.
Cellulite affects most women at some point (and men, but it is less common). It is not a sign of illness or bad health, although it can increase due to weight gain, genetics, age, pregnancy and unhealthy lifestyle choices.
Why Decreasing Weight Does Not Reduce Cellulite
Since cellulite is a skin issue connected to aging, lowering weight will not eliminate cellulite – it will only reduce fat levels. Furthermore, our skin loses suppleness as we age, increasing cellulite. However, cellulite is more prominent in those who are overweight.
How Qwo Injectable Butt Cellulite Treatment Can Help
Qwo is the first FDA-approved injectable butt cellulite treatment that removes the fibrous bands that cause cellulite dimples. The injections contain two proven substances that help shift fat cells and encourage new collagen formation.
For best results, you should have three Qwo injections at 21-day intervals. This marvelous body shaping procedure is performed with a local anesthetic in under an hour, meaning you can proceed with your daily activities after treatment.
Results should be visible within a week, with a noticeable continual improvement occurring for up to 90 days following your last injection. These outcomes can be permanent following a healthy lifestyle.
Take the First Step to Smoother Skin by Contacting Blaine Plastic Surgery Today
Board-certified plastic surgeon Christine Blaine, MD offers you the opportunity to make aesthetic changes, like getting rid of that cellulite, to improve your well-being. Her team at offices in Huntington, Manhattan and Staten Island are eager to assist you on your quest for natural results from effective cosmetic procedures – whether it is only Qwo injectable butt cellulite treatment or a combination of treatments. So, contact us today and be one step closer to smoother, dimple-free skin that you can feel proud to show off.
Posted on behalf of Blaine Plastic Surgery