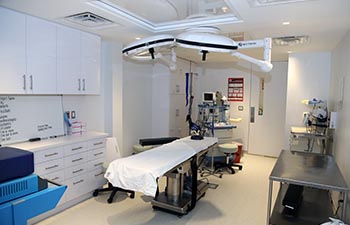 When a patient is considering undergoing a cosmetic surgical procedure, there are many factors to consider as part of the decision-making process. Due diligence requires prospective patients to seek out the best possible balance between the following factors: aesthetic goals, medical risk, and financial investment. One of the most important factors in selecting a surgeon is to consider his or her skill, training, and expertise; first and foremost ensuring he or she is a Board Certified Plastic Surgeon. Secondly, it is important to consider your surgeon's bedside manner, which is known as the capacity to listen and understand your desires and concerns.
Selecting A Surgeon with an AAAASF Certified Operating Surgery
While many patients are interested in where his/her surgeon performs their surgeries, many patients are also surprised to learn that the conversation of location can (and should) extend beyond the hospital or outpatient surgical center. With the growing trend of performing plastic surgery in an office-based and/or outpatient surgical center, Dr. Christine Blaine strongly suggests that prospective patients also consider whether or not the surgical center where the procedure will be performed is properly certified by the American Association for Accreditation of Ambulatory Surgery Facilities (AAAASF).
Understanding the Gold Standard of Facility Accreditation
The AAAASF is responsible for creating and enforcing a uniform standard of care including strict safety measures for all outpatient surgical centers – including office-based surgical centers. Although accreditation of outpatient surgical centers is not mandatory nationwide, more and more states are moving in this direction and using AAAASF standards as their primary guideline.
How Does a Surgical Facility Get AAAASF Certified?
When an outpatient surgical center wants to get accredited by the AAAASF, they must be able to demonstrate that the facility meets or exceeds standards on a range of factors. These factors include operating room procedures, pre and post-operative procedures, anesthesia procedures, administration of medications, medical record-keeping, surgeon training, and board certification. There is the stringent criterion the facility must meet as part of the application process, followed by several inspections to determine whether or not the surgical center is properly following AAAASF standards. After initial completion and certification, each facility must regularly re-certify to ensure consistent adherence to these guidelines.
What Can a Patient Expect From an AAAASF-Accredited Facility?
Patients that elect to undergo a cosmetic surgical procedure at an AAAASF-accredited facility can be assured that the facility has met the highest possible standards within various areas related to patient safety and care. Facilities that are accredited with AAAASF provide the best possible care to all patients, with the patient's safety first and foremost in mind.
Find a Surgical Center Near You Under the Golden Standard
Dr. Blaine is proud to offer her very own AAAASF certified operating facility housed within the offices of Blaine Plastic Surgery. This "in-house" operating facility meets increasing patient interests to make the aesthetic surgical experience even more pleasant, efficient, convenient, and discreet. This fully accredited outpatient facility offers two operating rooms, private pre-op and recovery areas, and a handpicked surgical, anesthesia and nursing team to deliver the most exceptional care possible.
On the day of your surgery, you come to the very same location you've become comfortable with, see many of the same faces on staff, and enjoy the privacy and exclusivity that only an office-based surgical center can provide. These advantages combined with the established safety determination by the AAAASF helps to give Dr. Blaine's patients peace of mind during their entire perioperative process.
Posted on behalf of Blaine Plastic Surgery