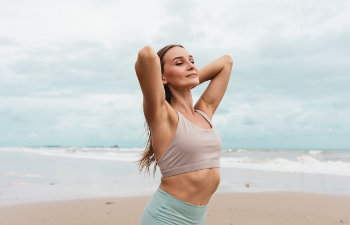 With summer right around the corner, it is time to think about sleeveless shirts, swimsuits and strapless dresses. If you cringe at the thought of revealing your upper arms, you are not alone. Many people, mostly women, have the notorious "bat wings" of hanging skin on their upper arms. If you are tired of hiding your arms under sleeves during the hot, humid days in New York, it may be time for arm lift surgery.
If you had "matronly" arms or excess fat on your arms, the skin can be stretched over time. Pregnancy, weight gain and other factors can stretch the skin and it may not bounce back when the arm size shrinks. With aging comes lost elasticity of the skin, which can result in the sagging and hanging skin below the upper arms, especially when combined with weight loss. For those who have lost a significant amount of weight, such as after bariatric surgery, saggy upper arms can occur at any age.
Is Brachioplasty Right for You?
Brachioplasty, or arm lift surgery, can give you firmer, slimmer upper arms. This procedure is designed to remove sagging skin from the upper arms and tighten the underarm area. Brachioplasty can be performed in various methods to remove excess skin and fat, restoring more youthful and sexy upper arms. The surgery usually requires liposuction to remove any excess fat, then an incision along the underside of the arm to remove excess skin and surgically sculpt the arm for a slimmer, firmer appearance.
Non-Surgical Arm Lifts
For those that are looking for a less extreme option to tighten upper arms, consider a non-surgical arm lift with body contouring treatments. At Blaine Plastic Surgery, we perform both surgical and non-surgical brachioplasty at our clinics in New York. Non-surgical arm lifts can be performed using radiofrequency (RF), electromagnetic and cold energy devices that stimulate collagen, muscle and skin tightening with non-invasive treatments. We offer CoolSculpting™, EmSculpt and InMode treatments for non-surgical arm and body sculpting options.
Get your arms ready for summer with an arm lift surgery procedure. Call our office in Staten Island, New York City or Huntington, NY to schedule a brachioplasty consultation.
Posted on behalf of Blaine Plastic Surgery