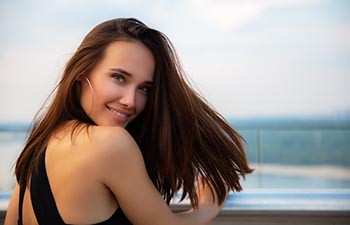 Since its initial FDA approval in 2002, Botox has become the Kleenex of wrinkle-reducing injectables; a brand name virtually interchangeable with the category itself. This non-surgical method of reducing fine lines and wrinkles is extremely popular, with more than 6 million treatments performed each year. The prominence of the Botox brand has led many patients to incorrectly assume that every injectable product for the face is in fact "Botox."  So when we refer to Botox, what do we actually mean?
Non-Surgical Cosmetic Treatment Options
Neuromodulators are a class of injectables that are commonly used to relax forehead wrinkles, frown lines, and crow's feet. They are injected into the facial muscles in order to relax them, therefore releasing the wrinkle and smoothing the skin. Because of its brand recognition, your doctor may broadly refer to all neuromodulators as "Botox."  This is really a turn of phrase, and an effort to avoid patient confusion. In reality, Botox is just one of four neuromodulators (Botox, Dysport, Xeomin, and Jeuveau) that are FDA approved for cosmetic use.  Your doctor may favor one over another as they do each have their own slight variances in terms of patient satisfaction (speed of onset and longevity), ease of use, and company support. At Blaine Plastic Surgery, we are proud to offer all four neuromodulators currently on the market to our patients; the individual characteristics of each will be explained to you during your consultation with Dr. Blaine. Together, you will decide which neuromodulator is best for you- and you may even decide to switch it up from time to time!
What is Jeaveau?
The newest FDA approved neuromodulator on the scene is Jeuveau (manufactured by Evolus). Jeuveau is getting a lot of attention because it is the first new neuromodulator to gain FDA approval in nearly a decade!  That fact combined with a fresh marketing strategy and user-friendly patient rewards app makes Jeuveau an attractive choice for Botox veterans and newbies alike.
Jeuveau promises patients the same (if not a bit better) tried and true results as its neuromodulator predecessors. Jeuveau has been studied in 2100 patients across 5 clinical studies, and its molecular makeup is practically identical to Botox. It's no surprise that clinicians are finding great patient outcomes and using Jeuveau as another valuable tool in the cosmetic tool belt.
Focus on Patient Satisfaction
Unlike the other neuromodulators on the market, Jeuveau is the only one with no medically therapeutic indication (migraines, spasms, etc.). This means that Evolus has put all its time, money, and effort into the cosmetic realm and placed a dedicated focus on the aesthetic patient experience.  No matter which product you choose, your injector will help you reach your optimal results. A board-certified plastic surgeon has a robust understanding of facial anatomy and a working knowledge of many injectable products and is best equipped to help you with your facial rejuvenation goals.
Jeuveau and Neuromodulators in Huntington and Staten Island
Start off your summer with a self-esteem boost at Blaine Plastic Surgery! We offer Botox, Dysport, Xeomin, and Jeuveau, along with other surgical and non-surgical procedures for men and women. Dr. Blaine will work with you to choose the ideal treatment to help you look and feel your best. Try Jeuveau in July or August and receive three areas for the price of two! Complete your treatment by taking advantage of our filler specials as well- buy one syringe, get your second 25% off. Buy two syringes, get your third 50% off! To learn more or to schedule a consultation, please contact us at our Huntington, Staten Island, and New York, New York offices today!
Posted on behalf of Blaine Plastic Surgery