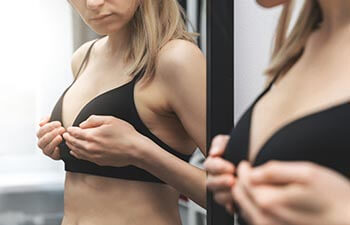 Did you know that there is more that goes into the consideration of a breast lift than simply determining if it is the right option for you? Once you decide that you are interested in a breast lift, you will need to work with your plastic surgeon to determine which incision type is best for you. Each type varies in technique and impact, and the decision will depend largely on the current state of your breasts and the type of results you are looking for. Below, we outline the three breast lift incision types and the process of choosing the path that is right for you, so keep reading to learn more.
Concentric Lift
Do you have very minimal breast sagging and require only a very minor breast lift? If this is the case, a concentric lift may be the best choice for you. Also known as a Benelli (named after the surgeon who pioneered the technique) or periareolar lift, this breast lift requires a circular incision, just around the areolas. This type of breast lift can be performed in conjunction with a breast augmentation for patients looking for additional breast volume and who also have very slight breast ptosis (sagging), often less than 1 cm. A concentric lift can also be used to reduce areola size. The scar following this procedure will be around the edge of the areola and is often difficult to see, due to the natural color difference between the areola and surrounding skin, which makes it an appealing option for many women.
Circumvertical Lift
If you have greater breast droop, volume loss, and excess skin, you might find yourself a better candidate for a circumvertical lift. A circumvertical lift, commonly referred to as a lollipop lift, is one of the most common incision types for breast lifts. This lollipop lift requires two incisions: one incision circles the areola and the other runs vertically from the base of the areola to the inframammary (breast crease) fold, resembling a lollipop. If you choose a circumvertical lift, your plastic surgeon will use the periareolar incision used in concentric lifts along with a vertical incision to successfully reshape and support underlying breast tissue while removing excess skin for positive long-term, lifted results. Women who are worried about scarring often request a circumvertical lift, because the incision does not run along the breast crease. Scars can be easily hidden even in the tiniest of bikini tops and typically heal beautifully.
Wise Pattern/Inverted-T Lift
For those with major breast sagging and excess skin on both the vertical and horizontal breast planes, a more extensive breast lift incision type can be required to afford the most ideal results. Known as the anchor incision, the wise pattern/inverted-T lift utilizes the same incisions as a circumvertical lift but also extends with a horizontal incision component that rests along the breast crease. This incision type is commonly employed when combining a breast reduction and breast lift, and is therefore ideal for removing a great deal of excess skin and breast tissue. This breast lift incision type will result in some visible scarring, but it can typically be hidden by a bikini top or bra.
Choosing Your Breast Lift Incision Type
The decision to undergo a  breast lift and determining the most appropriate incision type will depend on your anatomy and surgical goals.  As a female, board-certified plastic surgeon, Dr. Blaine understands and appreciates a woman's desire to achieve a youthful and perky breast shape while minimizing the number of incisions and the possibility for visible scarring. At Blaine Plastic Surgery, every effort is made to customize a surgical plan designed to achieve a patient's specific goals and achieve long-lasting and effective results.
It is imperative that patients take time to learn about all of their surgical options and engage in a straightforward conversation with their surgeon. A reputable, board-certified surgeon should listen to your concerns and make recommendations for your breast lift based on those concerns, and after evaluating your anatomy. It is important that patients avoid sacrificing or hindering the greatest results by choosing an inappropriate incision type simply based on fear of scarring risks. Scars take up to 12 months to reach full maturity, and they will improve in appearance and fade with time. When considering a breast lift, be sure to choose a board-certified plastic surgeon who is well-experienced in these procedures and who will provide individualized care rather than using a one-size-fits-all approach.
Personalized Breast Lift Procedures Near You
When you choose Dr. Christine Blaine to perform your breast lift, you'll receive the care and attention of a board-certified plastic surgeon who will take your individual situation into account when crafting a plan for your procedure. Dr. Blaine will work with you to determine which incision type will be most beneficial, and you'll be informed about each step of the way.
Blaine Plastic Surgery is also proud to offer our own AAAASF certified operating facility, so you'll be in excellent hands throughout the entire breast lift process. We offer a wide range of plastic and reconstructive procedures at our locations in both Huntington, Staten Island, and New York, New York focused on helping women and men feel great about their appearance every single day. To learn more about all we have to offer, including breast lifts, or to schedule your complimentary consultation, don't hesitate to contact us today!
Posted on behalf of Blaine Plastic Surgery
HUNTINGTON, NY
775 Park Avenue Suite 205
Huntington, NY 11743
Get directions
Phone:

Fax:
STATEN ISLAND, NY
1504 Richmond Road
Staten Island, NY 10304
Get directions
Phone:

Fax:
NEW YORK, NY
535 5th Ave, 30th Floor
New York, NY 10017
Get directions
Phone:

Fax: