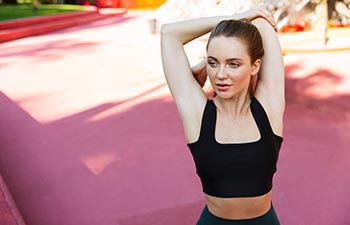 Do you feel that your breasts enter the room before you do?  Do you deal daily with under-boob sweat, back or shoulder pain, chafing, and painful bouncing? Do you have trouble finding clothes that fit or find yourself only wearing loose, boxy tops?  Are "granny bras" the only kind that fit you? The struggle is REAL and the all-female team of Blaine Plastic Surgery gets it! Reduce your breast size with Board Certified Plastic Surgeon, Dr. Christine Blaine. She is a woman who understands you and is here to help.
Who Needs a Breast Reduction?
Are you are unhappy with the size and weight of your breasts? Good news, you are a potential candidate for surgery!  Society may tell you that you should enjoy your big breasts, or you may have a friend who says she's envious of your size. There is great physical discomfort associated with big breasts- from difficulty exercising to constant back pain. Physical activity can be downright painful. We know that there is emotional strife associated with this as well- from difficulty fitting into clothes to unwanted attention. Not everyone wants to be known as the "one with big boobs."
The bottom line is – you don't have to live with this condition. There is a safe, routine, surgical solution to help you establish a functional bust that is proportionate to the rest of your body.  A breast reduction surgery will remove excess fat, glandular tissue, and skin from the breasts achieving a smaller, lighter, perkier breast appearance. The procedure itself involves making an incision around the areola, and then vertically down the breast crease (sometimes extending beneath the breasts in the breast fold). The nipple will be repositioned and lifted, and excess fat, skin, and tissue are removed.
What is the Recovery Time for a Breast Reduction?
Generally, we suggest patients take one week off work or school after their breast reduction surgery.  Patients report very little pain or discomfort after surgery; unlike other surgeries that involve incisions to the muscle, a breast reduction surgery only involves skin and tissue and is therefore not as uncomfortable from a recovery standpoint.  Pain medications are typically prescribed with patients often opting to take them just the first night. You may be pleased to realize that your back, shoulder and neck pain will be alleviated almost immediately and you will instantly look and feel lighter.
Is a Breast Reduction Covered by Insurance?
Breast reduction (reduction mammaplasty) is a recognized valid and billable procedure. Because excessively large breasts impact a patient's quality of life and cause functional impairment, your breast reduction surgery very well may be covered by your insurance plan. The team at Blaine Plastic Surgery understands the stringent criteria set forth by insurance companies and has the organized staff to support the paperwork and follow-up required to obtain approvals. Understanding insurance policies can be tricky, so a member of our staff will work with you to help you understand your coverage every step of the way.
Schedule a Consultation with Dr. Blaine in Huntington, Staten Island, and New York, New York
You know your body and lifestyle- if the size of your breasts is keeping you from looking, feeling or functioning at your best, know that there is a solution!  Breast reduction surgery is not just cosmetic surgery, it is absolutely life-changing. Most of our patients tell us they wish they would have had it done sooner! Contact us to schedule your complimentary consultation with Dr. Blaine. At your appointment, Dr. Blaine will determine your candidacy and explain how the procedure will help you. Achieve a breast size that feels right with Dr. Blaine. Healthy, proportionate breast size is in reach.
Posted on behalf of Blaine Plastic Surgery
HUNTINGTON, NY
775 Park Avenue Suite 205
Huntington, NY 11743
Get directions
Phone:

Fax:
STATEN ISLAND, NY
1504 Richmond Road
Staten Island, NY 10304
Get directions
Phone:

Fax:
NEW YORK, NY
535 5th Ave, 30th Floor
New York, NY 10017
Get directions
Phone:

Fax: