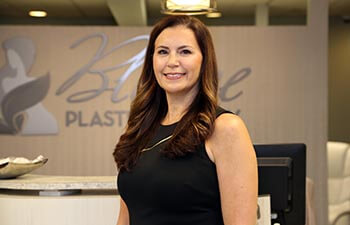 Blaine Plastic Surgery is thrilled to announce that Dr. Christine Blaine has been approved as a member of the American Society for Aesthetic Plastic Surgery (ASAPS). This highly-regarded organization is made up of The American Board of Physician Specialties (ABPS). They are board-certified plastic surgeons who are dedicated to the art, science, and safe practice of aesthetic surgery and cosmetic medicine. The over 2,600 members of ASAPS must be certified in their field and have extensive training, as well as adhere to a comprehensive code of ethics. Only around one-fourth of all American Board of Plastic Surgery certified surgeons are also ASAPS members, so we are very proud to announce Dr. Blaine's acceptance as a member.
Considerations When Choosing a Plastic Surgeon
When choosing a plastic surgeon, there are certain criteria that your surgeon should meet. Doing your research before you make your appointment is very important because you want to ensure that you are in good hands for whatever procedure you choose. General standards that you should hold your potential plastic surgeon to include.
Board certification in plastic surgery
Membership to both professional plastic surgery societies (The American Society for Plastic Surgery and the American Society for Aesthetic Plastic Surgery)
Operation only at accredited facilities , either hospital or office-based (for example, a center certified by the American Association for Accreditation of Ambulatory Surgery Facilities).
You may also want to have a conversation with your potential plastic surgeon about their experience performing the specific procedure you are interested in. Different procedures require different skills and intricacies, so taking the extra time to talk to your plastic surgeon about their experience will help you determine if they are the right choice for you.
Find a Reputable Plastic Surgeon Near You
Dr. Christine Blaine's experience and expertise in her field make her a reputable and trustworthy option for your next plastic surgery procedure, and her membership in the American Society for Aesthetic Plastic Surgery comes from years of positive contributions to the field of plastic surgery. Dr. Blaine also offers her own American Association for Accreditation of Ambulatory Surgery Facilities (AAASF) certified operating facility. It is housed within the offices of Blaine Plastic Surgery, so you can be assured that you will receive the most exceptional care possible. We encourage you to reach out and contact us today to schedule a consultation or to learn more about the services Dr. Blaine provides. We look forward to working with you to make your dreams for your appearance come true.
Posted on behalf of Blaine Plastic Surgery