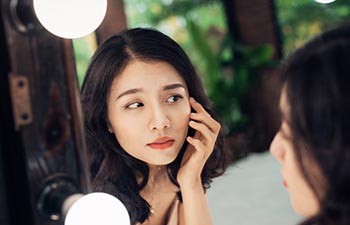 Do you ever look in the mirror and see someone different than yourself? You might not believe it, but that older man or woman standing in front of the mirror is you. As we age, we tend to lose our youthful appearance due to factors we can't control. Our skin becomes dryer, thinner and less able to produce natural collagen and elastin. The amount of Hyaluronic Acid also decreases in our body, leaving our skin more vulnerable to developing fine lines and wrinkles around our nose or mouth. However, there is a solution to getting back your youthful appearance! With dermal and lip fillers, you can restore your youth with an overall fresher look.
What are Fillers and How do They Work?
Dermal fillers add volume to aging skin by lifting and smoothing targeted folds and wrinkles, making you appear naturally younger. They are mainly used for skin rejuvenation and the reduction of lines and wrinkles. There are different types of fillers, including Juvederm, Restylane and Hylaform, which are all noninvasive fillers that contain Hyaluronic Acid (HA). HA is a naturally occurring sugar in the body that adds volume to facial tissue. This substance stimulates the production of collagen and elastin in the skin, creating a natural-looking fullness that will make you look five to ten years younger. These fillers not only add volume back to your cheeks but they also lightly lift your cheekbones to reduce the appearance of laugh lines. Facial fillers usually last up to a year, so you will have to undergo repeated injections to maintain your younger appearance.
If you have thinner lips, don't worry – fillers can fix that too! The aging process can leave your once full lips to look practically non-existent. With the help of lip fillers, such as Juvederm and Restylane, you can enhance the overall shape of your lips and add subtle volume. Those fine lines around your lips will disappear and your lips will look more defined than ever. The Restylane filler, primarily used for your lips, can also be used to treat under-eye hollowness. Restylane can add instantaneous volume back to your under-eye area, making the appearance of dark circles less noticeable. In turn, you'll look well-rested and rejuvenated.
Fillers: Everything You Need to Know About the Procedure
This noninvasive procedure involves using a fine needle to inject the filler underneath your skin. This fills the tissue that has grown soft and eliminates the wrinkles from your face, improving the fullness in your cheekbones or lips. The procedure lasts a total of 30-45 minutes, and patients can expect results to last around one to two years. Fillers are also completely reversible and temporary, so if you don't like the outcome you can easily reverse the changes. After the procedure, there might be light bruising and swelling, but it should not persist any longer than a day.
Find a Plastic Surgeon in New York
Restore your youth at Blaine Plastic Surgery! Dr. Blaine will work with you to find the right filler that best suits your needs. To learn more information about our Juvederm, Restylane and Hylaform fillers, contact Dr. Blaine today at (631) 470 – 2000 or stop in for a visit in one of our two convenient locations in New York. Either way, we'll replace your skin's volume in a way so subtle that everyone will notice, but no one will know.
Posted on behalf of Blaine Plastic Surgery