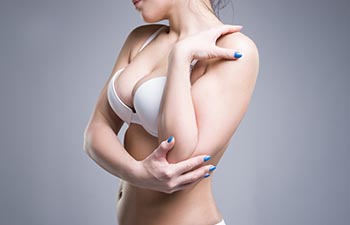 Have your breasts changed over time?  Do you notice your breasts don't fill bras or clothing the way you would like?  Perhaps you've come to realize this consequence after weight fluctuations or pregnancy. Or perhaps you've always felt this way! A breast lift is a common cosmetic surgery procedure that addresses these very common breast issues, including asymmetry and sagging, thus restoring your breasts to a more youthful and perky appearance. A breast lift is an excellent option for many women, so read on to learn more about whether a breast lift is right for you.
Asymmetrical Breasts are the Norm
It is very common to have breasts that differ in size and shape. Slight asymmetry can be genetic or the result of weight fluctuations, pregnancy, nursing, or hormones. Everyone is naturally asymmetric, but sometimes there can be drastic and visible asymmetries in the size and shape of the breasts, which can cause a decrease in a patient's self-confidence. When these asymmetries are also related to breast ptosis or drooping, a breast lift may be an ideal option for you as this procedure is designed to give a patient a perkier and more youthful breast shape. As a stand-alone procedure, or in combination with a breast augmentation, a board-certified plastic surgeon can work with you during an in-person consultation to analyze the degree of asymmetry and breast droop, review your cosmetic goals, and, in the end, can help you determine if a breast lift is right for you.
How does Breast Lift work?
A common question that patients have during the consultation is whether or not a breast lift is truly necessary. If you find yourself wondering if a breast lift is the right next step for you, there is an easy at-home test that you can perform in the mirror! While standing in front of a mirror, place a flat object (like a single sheet of computer paper or even a pencil) underneath your breasts in the breast crease. If your nipple position rests at or below the breast fold (defined by that object), then a breast lift may be right for you.
During a breast lift, the nipple-areolar complex will be lifted to a more youthful position, and the underlying breast and glandular tissue will be repositioned and tightened, restoring a more aesthetically pleasing, lifted and symmetrical breast shape. Your surgeon will also choose the right breast lift incision type after careful consideration of the degree of breast droop and how much the breast and areolas need to be lifted. Breast ptosis can have a major impact on a patient's self-esteem. Pregnancy, breastfeeding, significant weight loss and/or the natural aging process can cause a patient's breast to sag – for the nipples to point downwards, for the breasts to appear loose or deflated, and for the skin to look and feel overstretched.
If you're also looking for a little more volume, a breast augmentation can often be performed at the same time as your breast lift. Adding on breast augmentation to your breast lift procedure will require the use of breast implants (saline, silicone gel, or the Ideal breast implant) to increase bust size or to simply provide for some additional upper pole fullness that sometimes a lift alone cannot afford. Breast augmentation at the time of a breast lift should not add any additional recovery time to the social downtime or time off from work that the breast lift requires.
You're Looking for a Confidence Boost
Breasts that look or feel stretched or "saggy" can cause major self-esteem issues for any woman, and you deserve to step outside each day feeling confident and satisfied with your appearance. If you are unhappy with the natural appearance of your breasts and are tired of wearing push-up bras, a breast lift could very well be a great option for you. This surgery will leave you with breasts that appear fuller and rounder, through the reshaping and lifting of the existing tissue. The size and shape of the breasts are not drastically altered with a breast lift- the procedure works with the existing tissue to provide a boost and restore symmetry. If you are looking to directly change the size of your breasts, you can combine your breast lift with a breast reduction or augmentation.
Breast Lift Procedures Near You in Huntington and Staten Island New York
Don't spend another day feeling dissatisfied with the way your breasts look- find the solution with a breast lift at Blaine Plastic Surgery! At our offices in Huntington and Staten Island, board-certified plastic surgeon Dr. Christine Blaine will work with you to craft a personalized plan, taking into account the appearance of your breasts and your cosmetic goals. We offer a number of procedures focused on various areas of the body, and our breast procedures will provide you with options to restore a more youthful look. To learn more or to schedule a consultation with Dr. Blaine to determine if a breast lift is right for you, please contact us today. We look forward to hearing from you.
Posted on behalf of Blaine Plastic Surgery
HUNTINGTON, NY
775 Park Avenue Suite 205
Huntington, NY 11743
Get directions
Phone:

Fax:
STATEN ISLAND, NY
1504 Richmond Road
Staten Island, NY 10304
Get directions
Phone:

Fax:
NEW YORK, NY
535 5th Ave, 30th Floor
New York, NY 10017
Get directions
Phone:

Fax: