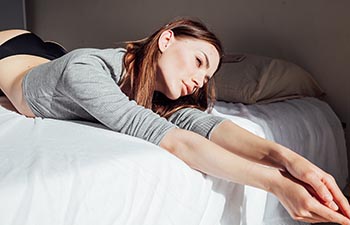 "Lunchtime Lipo" may be a newer term, but the procedure itself is the same tried and true liposuction that has been performed across the world for decades. Lunchtime Lipo refers to a liposuction procedure performed under local anesthesia in relatively quick procedure time. Often times when a patient thinks of liposuction, they assume it must come with general anesthesia, pre-surgical testing appointments, lots of downtime, and a hefty price tag. Whereas traditional liposuction performed under general anesthesia is still the best solution for some, many patients are candidates for a quicker but still very effective fat removal procedure for smaller areas of concern. With a quick procedure time, an easy turnaround for booking, little downtime, and a lower price point, this type of procedure has been coined "Lunchtime Lipo." Additionally, since this type of liposuction requires only local anesthesia, patients can often drive themselves to and from their appointment.
How Does Lunchtime Lipo Work?
Board Certified Plastic Surgeon Dr. Christine Blaine uses power-assisted liposuction (PAL) – a special device that allows for the most thorough and precise fat removal – for a large majority of her liposuction cases. This PAL device produces small, rapid vibrations to help break up fat so that it can be easily suctioned out through the liposuction cannula. This powerful but gentle method of liposuctioning yields better patient outcomes because there is less trauma to the treated areas as compared to the standard non-assisted handpiece, and allows surgeons to effectively and quickly remove fat. This translates to less bruising, swelling, and discomfort, and exceptional patient results.
Your Lunchtime Lipo procedure begins with the administration of a local anesthetic to the treatment area. Once the treatment area has been effectively anesthetized to ensure maximum patient comfort, a tumescent fluid is infiltrated into the treatment area that contains additional anesthetic fluid. Once the tumescent fluid has been infiltrated to the treatment area(s), Dr. Blaine will insert a small power-assisted liposuction cannula to smoothly, effectively, and methodically remove the unwanted fat from the predetermined areas.
What Can I Expect During and After Lunchtime Lipo?
While your treatment areas are thoroughly numbed and you will not feel any pain, it's not uncommon for patients to feel anxious leading up to or during their procedure. Blaine Plastic Surgery offers additional comfort management solutions to help keep you relaxed and comfortable during your Lunchtime Lipo procedure that is only available at physician offices. Prescription medications and/or Pronox (also known as "sweet air") can be administered and, in conjunction with the local anesthetic, make Lunchtime Lipo patients very comfortable throughout their procedure and keep them at ease.
Complete recovery from Lunchtime Lipo can be expected in a few short weeks, but patients can often return to normal routines immediately following their procedure! We do recommend that patients avoid exercising and heavy lifting for a few weeks following their Lunchtime Lipo procedure and we encourage the use of a lightweight compression garment post-procedure to maximize patient comfort, recovery, and results. The best candidates for Lunchtime Lipo are healthy men and women who want to quickly remove fat and sculpt specific problem areas such as the thighs, flanks, abdomen, arms, back, and chest.
Safe and Effective Lunchtime Lipo Procedures With Blaine Plastic Surgery
Lunchtime Lipo is still at its core a surgical procedure. Though it is safe and routine, Dr. Blaine and her team regard it with the same seriousness that any other surgical procedure warrants. The individual's candidacy will be determined during a consultation exam that includes a thorough assessment of the patient's health and medication history. The Lunchtime Lipo procedure is performed with sterile techniques in our AAAASF certified OR suites, making your aesthetic surgical experience safe, efficient, convenient, and discreet.
Lunchtime Lipo should only be performed by a Board Certified Plastic Surgeon. Call Dr. Blaine at 631.470.2000 or email us today to schedule your consultation and find out if Lunchtime Lipo is right for you!
Posted on behalf of Blaine Plastic Surgery