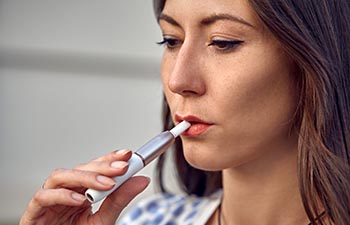 Here at Blaine Plastic Surgery, one of the first pieces of advice Dr. Blaine gives during her plastic surgery consultations is to not smoke. But just because you're no longer reaching for cigarettes doesn't mean you're in the clear. If you're thinking about getting a procedure done, you need to avoid all forms of nicotine, which include gum, patches, chewing tobacco and e-cigarettes.
While it may sound difficult to do, especially if you are a regular smoker, nicotine can cause many negative impacts on your procedure. Learn more about nicotine's effect on plastic surgery below.
Nicotine's Effect on Plastic Surgery Procedures
During many popular procedures, such as a tummy tuck or breast reduction, your surgeon expertly cuts through the skin, dissects the deeper tissue, therefore, allowing the skin and tissue to be lifted, moved, stretched or removed to achieve desired results. During this process, some blood vessels are cut, while others remain intact. The vessels that remain intact supply the oxygen that is needed to the skin that has been elevated.
How does nicotine play a role in this? It's simple. Once nicotine enters your bloodstream, it shrinks your blood vessels significantly. Small blood vessels mean less blood flow, which leads to less oxygen and dead tissues. There are many other problems that can result when you mix nicotine with a procedure.
What Can Happen When You Mix Smoking with Plastic Surgery:
Loss of skin, especially in the cheek, nipples or tummy areas
Infections
Death of fat cells, which results in hard lumps
Delayed healing
Thick, noticeable scars
Blood clots, which have the potential to be fatal
Increased pain during the recovery period
Permanent small vessel damage
Loss of implants
Stroke, heart attack, pneumonia, and other life threatening complications
How to Prepare for Plastic Surgery if You are a Smoker
If your heart is set on getting a procedure done and you're a smoker, it does not mean that you can't go through with it. All it means is that it is going to take some willpower to ensure you achieve the best results possible.
During your initial consultation, be sure to tell your surgeon that you are a smoker. He or she will be able to provide further tips or inspiration to help you quit, as well as give you a recommendation on how long before surgery you should quit.
Typically, it is recommended to quit anywhere between three to six weeks before surgery and three to six weeks after. However, for the longest-lasting results (and a healthier lifestyle), we suggest quitting forever. You've made it this far, why stop now?
If you're thinking about giving into temptation, think of how one puff will cause your blood vessels to shrink. Is one puff really worth putting your entire surgery at risk? And if you do end up giving in to temptation before your surgery, even just once, you need to confess to your surgeon. It is better to be safe and delay your surgery than risk some of the scary complications that could result.
Schedule a Plastic Surgery Consultation in New York Today
If you're looking for one of the top plastic surgeons in New York, look no further than Dr. Christine Blaine. As a board-certified surgeon, she knows the importance of treating the individual as a whole, making sure all of their wants, needs and concerns are met. Dr. Blaine also has extensive experience working with smokers and helping them through the challenges they face before surgery. For more information or to schedule your consultation, please contact us today.
Posted on behalf of Blaine Plastic Surgery