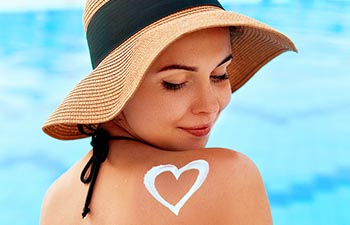 Skin Cancer Awareness
It is likely that you, a close family member, or friend of yours has suffered a diagnosis of skin cancer at some point in your lifetime. According to the Skin Cancer Foundation, one in five Americans will develop skin cancer by the age of 70. Some forms of skin cancer are even life-threatening; the American Cancer Society reports that 7,230 Americans died from melanoma last year. Fortunately, the vast majority of skin cancers are treatable, but they can cause distress, discomfort, and the potential for unwanted scars on the affected area after they are removed.
Treating Skin Cancer With Dr. Blaine
As a Board Certified Plastic Surgeon, Dr. Blaine is often called to the task of closing large defects left by the removal of cancerous lesions from a procedure called Mohs surgery. During this procedure, your dermatologist systematically removes cancer – layer by layer- leaving a defect or hole where that lesion once was.
When diagnosed with a cancerous lesion, your dermatologist will suggest a course of treatment to ensure that the lesion is completely removed, leaving no trace of cancerous cells in the skin. While sometimes a small excision is possible, it is not uncommon for your dermatologist to recommend a Mohs procedure. People are often surprised that a lesion that appears relatively small on the surface can extend very deep and wide underneath the skin. This is where your dermatologist may suggest (or you can specifically request) a board-certified plastic surgeon get involved. The closures and repairs of these defects can be complex but in the right surgical hands, and with proper post-op care, patients do heal very well and have a very acceptable cosmetic and functional outcome.
Dr. Blaine sees how physically and emotionally damaging this process can be for patients. As a physician, she makes it a priority to inform her patients on how to prevent skin cancer from occurring in the first place.
Skin Cancer Prevention Tips
May is Skin Cancer Awareness month, and with summer on the way, there is no better time to remind ourselves how dangerous skin cancer can be. Your skin (this link doesn't make sense- please remove)is your body's biggest organ, and with that, it is important to take care of it in all aspects. There are simple and effective steps we all can take to prevent this disease from striking us and our families.
An estimated 90% of skin cancers are directly associated with exposure to UV radiation from the sun. When it comes to skin cancer, the old adage is true- an ounce of prevention is worth a pound of cure..
Here are some simple steps everyone can take to prevent sun damage and skin cancer.
Use a broad spectrum (UVA/UVB) sunscreen with an SPF of 30 or higher every day.
Apply at least 1 ounce (2 tablespoons) of sunscreen to your entire body 30 minutes before going outside and reapply every two hours, after swimming or excessive sweating.
Wear UV- blocking clothing, a wide-brimmed hat, and sunglasses when outdoors
Seek shade- especially between the hours of 10:00 am to 4:00 pm
Never use UV tanning beds
See a dermatologist at least once a year for a full body scan and exam
Skin Cancer Treatments In Huntington, Staten Island, and New York, New York
The complete removal of cancerous growths  will often leave a large skin defect or an unwanted scar. Board-Certified Plastic Surgeon, like Dr. Christine Blaine in Huntington, Staten Island, and New York, New York, can help minimize the aesthetic and functional impact involved in the removal of these growths. Take the first step in protecting yourself from skin cancer and premature aging- enjoy 10% off your SPF purchases from the offices of Blaine Plastic Surgery in the months of May and June. Contact Dr. Blaine to learn more or to schedule a consultation today!
Posted on behalf of Blaine Plastic Surgery