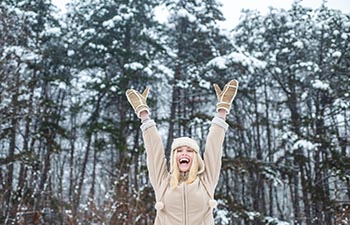 So you've decided that you want to get plastic surgery, but you're not sure when you should go forth with the procedure. While you may be anxiously awaiting your transformation, it's important that you take the time to plan accordingly. Here are a few reasons why winter is the best time for plastic surgery.
The Perfect Time for Recovery
Winter is a great season for plastic surgery because it's the perfect time for recovery. With the weather being cold and not many activities taking place, it's the perfect time to stay at home and recover from your procedure. Recovery from plastic surgery is one of the most difficult aspects of the procedure, and getting adequate rest is crucial for achieving the results you desire. Because you're more likely to be less active during the winter, it's an ideal time of the year to get a procedure done. Plus, let's be honest, who doesn't love curling up on the couch under some cozy blankets and watching TV or reading a book?
The Perfect Gift For the Holidays
If you're sick of getting useless holiday gifts, or gifts that you despise and want to return, then waiting to get your procedure done in the winter may be the perfect solution! It has become extremely common for people to gift their loved ones cosmetic and plastic surgery procedures. Consider asking your family or significant other for your procedure as a gift for the holidays, like Christmas. If they planned on getting you a gift regardless, it might as well be something you actually want or need. It's a win-win situation for all!
The Perfect Time To Heal
Unlike spring and summer when you're likely to wear less clothing and have your skin more exposed, the winter is the perfect time for plastic surgery because your incisions and scars will be covered. With the weather being colder during the winter months, you're likely to wear clothing and layers that will cover your body, and possibly the area of your procedure. This is an advantage in your recovery as your incisions will be less exposed and more likely to heal without any problems. With your skin being covered by layers, this also gives your scars more of an opportunity to heal. This way, you can feel less self-conscious about any scarring that may occur, resulting in a more comfortable recovery.
The Perfect Time To De-Stress
Even though you may get some time off from work during the holiday season, this time of year can be extremely stressful for many people. In fact, studies show that stress and anxiety are often at their highest points during this time of year for women, who typically take on the responsibility of shopping for gifts, preparing meals and decorating the home. Since the winter seems to be a time when you need to de-stress the most, it makes perfect sense to plan your procedure during this time of year and hit two birds with one stone: de-stressing from the holidays while recovering from your procedure.
The Perfect Way to Start A New Year
Every new year is a new opportunity. There's nothing like starting off the new year on a fresh clean slate all while feeling great about yourself. Planning your plastic surgery procedure during the winter is the perfect setup for this. Having your plastic surgery procedure done in the winter also allows you to be fully recovered by the summer, which is of significance when it comes to procedures in areas of your body that will be exposed by your bathing suit. Plan your plastic surgery procedure in the winter and you'll be ready for a new year and a new you!
Dr. Christine Blaine offers a wide array of plastic surgery procedures to her patients. Learn more about them here.
Posted on behalf of Blaine Plastic Surgery
HUNTINGTON, NY
775 Park Avenue Suite 205
Huntington, NY 11743
Get directions
Phone:

Fax:
STATEN ISLAND, NY
1504 Richmond Road
Staten Island, NY 10304
Get directions
Phone:

Fax:
NEW YORK, NY
535 5th Ave, 30th Floor
New York, NY 10017
Get directions
Phone:

Fax: