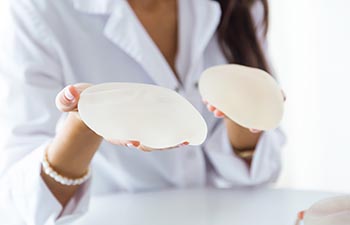 Part 1: Implant Type
Here's a very common scenario: Your friend had a breast augmentation and looks great! You think to yourself, "I'll have what she had!" You ask her for all the details and you come to your consultation armed with this information knowing exactly what you want. From implant size to placement and incision type, you know what you want from your procedure. The only problem is, her body is not your body.
There are some surgeons who will perform the same surgery on every patient. But prospective patients should be wary of a one-size-fits-all approach when it comes to their breast augmentation. A skilled, Board Certified Plastic Surgeon who is looking to build trust and forge a lifelong relationship with their patients will take the time to evaluate your body type, listen to your goals, and suggest a course of treatment based on what he or she sees in front of them- not what they performed on their last patient.
The best outcomes occur when starting with an honest conversation where the patient expresses her goals, and the surgeon is able to guide the patient towards the best solution. In this three-part blog series on Breast Surgery, we will explore the necessary components for a successful Breast Surgery consultation and surgical outcome.
Breast Augmentation Implant Options
One of the first topics addressed during a Breast Augmentation consultation is implant type. Many patients have at least heard of saline and silicone breast implant options. Blaine Plastic Surgery is proud to be one of a select few practices that carry a third implant choice called the Ideal Implant – a unique saline-filled implant that looks and feels very similar to silicone. All are safe; all are FDA approved. Each option has a different look, feel, and associated financial investment.
Saline
Saline implants are the most cost-efficient implant option and are FDA-approved for patients 18 years of age and older. Many patients find comfort in the safety of saline implants, as these implants are a silicone shell that is filled with salt water. Most patients and surgeons, however, will agree that saline implants do not offer the most natural look or feel as compared to silicone gel implant alternatives.
Silicone Gel
Implants filled with silicone gel were re-approved by the FDA in 2006 and, since then, have been the most favored option for breast augmentation amongst patients and surgeons alike. These implants, FDA-approved for patients 22 years of age and older, offer patients a very realistic look and feel and are widely considered to look and feel much more natural than saline implant options. With the newer generation of silicone gel implants, the greater cohesiveness of the silicone gel is a highly attractive and very safe option for patients. These cohesive memory gel implants are commonly referred to as 'gummy bear' implants and have quickly become a patient and surgeon favorite.
Ideal®
The Ideal Breast Implant is a double baffled saline breast implant that bridges the gap between the safety and peace of mind of a saline breast implant and the natural look and feel offered by silicone gel breast implant options. Developed by a Board Certified Plastic Surgeon, the Ideal Breast Implant has gained popularity among patients who seek a natural augmentation result but are not comfortable with the use of silicone gel implants. Dr. Blaine is proud to be one of the few surgeons in the tri-state area who offers this unique option.
Determining Your Implant Profile
Once you have defined the implant type that best suits you, the next step is to determine what profile and size implant should be used. Implant profile refers to the amount of projection you can expect from your breast implant. Profile selection can be one of the most important decisions that you and your surgeon will make, as too much projection can lend itself to a less-natural, more artificial cosmetic result. Most patients have heard of moderate, moderate plus, high profile, and ultra-high profile implants by the time that they have presented for their in-person consultation. A moderate plus profile implant will have a larger base diameter and less projection than a high profile implant, which will have a smaller base diameter but greater projection. Based on the desired volume a patient likes during the sizing routine and the patient's breast base width measurements, your surgeon will advise you on the most appropriate implant profile and size for you.
Professional Breast Augmentation Procedures Near You
As a woman, Dr. Blaine understands the intimate and personal nature of breast surgery. This compassion lends itself well to the quality of consultation that you will receive at Blaine Plastic Surgery. When you make your appointment at one of our offices, you can be assured that Dr. Blaine and her entire all-female staff will hear you, listen to you, and help you move towards your goals. Dr. Blaine will carefully, thoroughly, and thoughtfully consider your cosmetic goals, lifestyle, and anatomy when making her recommendation to you, and will customize the surgical procedure to enhance your results. To learn more about the procedures we offer and to schedule your consultation with Dr. Blaine, please contact us today.
Posted on behalf of Blaine Plastic Surgery