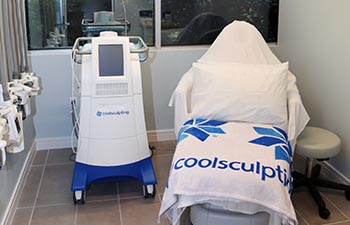 About the CoolSculpting Procedure in New York
When something sounds too good to be true, it usually is. Thankfully, that isn't the case with CoolSculpting! A completely innovative treatment that contours your body by freezing unwanted fat, the procedure does not involve surgery. Celebrities like Molly Sims have tried it out, openly praising the treatment's stunning, quick, and natural-looking results. No wonder why it's known as "Hollywood's best-kept secret!"
Besides A-list stars, men and women have been undergoing the CoolSculpting technology and coming out the other side with noticeable results. Here are six reasons why everyone is talking about CoolSculpting, and why you should give the procedure a try:
1.    CoolSculpting is completely safe
There are tons of body contouring procedures on the market, but not all of them are safe. CoolSculpting is the world's number one procedure that is cleared by the Food and Drug Administration (FDA) specifically for the treatment of fat bulges, meeting guidelines that are extremely safe for those who receive it.
2.    CoolSculpting has little to no recovery time
Any procedure that drastically enhances the appearance of a man or woman's body for the better usually means an extended period of time to recover. However, since CoolSculpting is a non-invasive procedure, it does not require much downtime – much to the patients' satisfaction. In fact, during the entire treatment, the patient is allowed to be awake; so once the CoolSculpting procedure is complete, it is okay to return to your normal, daily schedule.
3.    CoolSculpting will give you natural-looking results
Compared to other body contouring methods, CoolSculpting brings about the most natural-looking results. The absence of surgery means that there are no scars or marks on the person's body, so the appearance of the transformed area is perfectly smooth and seemingly unaffected. CoolSculpting is known best for treating the visible fat bulges in the submental area, abdomen, thigh and flank, back fat and the region underneath the buttocks. Each treatment will help reduce a patient's fat by about 30 percent.
4.    CoolSculpting is a minimally invasive procedure
While some people do not mind undergoing surgery for amazing results, most men and women would agree that it's more convenient to opt for a procedure that is non-invasive but still gives them a beautifully sculpted, trimmed body. CoolSculpting is a minimally invasive procedure that is quick, painless and does not require any type of surgery at all – which means no anesthesia or high risk.
5.    You get your money's worth with CoolSculpting
Men and women who typically choose to try the CoolSculpting technology do so because they can't seem to get rid of their pesky fat bulges with a proper diet or exercise regimen. That's where CoolSculpting can help! With ongoing and long-lasting results, this procedure helps both men and women get their money's worth.
6.    Your body does half the work for you
After you meet with a board-certified plastic surgeon and discuss a specific treatment plan for your body and needs, the identified fat cells underneath the skin's surface will be treated with a fixed, controlled cooling. Once the fat cells become frozen, they die. Your body then does the rest of the work by naturally processing these deceased cells, getting rid of them entirely.
CoolSculpting in New York
If you're tired of an outside appearance that doesn't align with your own desired self-image – and have experienced a failed attempt at a diet and exercise plan – you can certainly improve your appearance with the innovative, CoolSculpting fat-freezing procedure at Blaine Plastic Surgery.
A plastic surgery hub conveniently located in Huntington, New York, we can be contacted via phone at (631) 470 – 2000, or by e-mail at info@blaineplasticsurgery.com. Please contact us as soon as possible to set up a consultation for your CoolSculpting procedure!
Posted on behalf of Blaine Plastic Surgery