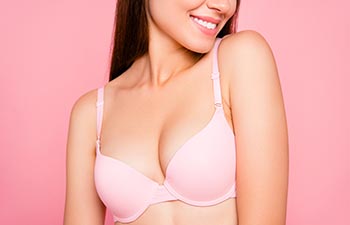 At Blaine Plastic Surgery, we want our patients to be fully informed and comfortable with any procedure they decide to pursue, including breast augmentations. You may have heard that a breast augmentation requires a long, drawn-out recovery period, and we want to debunk this myth! Below, we'll walk you through the stages of recovery from a breast augmentation so you can get a better idea about what your breast augmentation recovery will entail.
Along with learning as much as you can online, you should always be sure to discuss pre- and post-op protocols with your board-certified plastic surgeon, because each surgeon has his or her own recommendations based on their own medical training and practice.
Immediately After Your Breast Augmentation
Breast augmentation is an outpatient surgical procedure, which means that you will return home the very same day. Breast augmentations are routinely performed in our state-of-the-art outpatient surgical facilities at our Huntington and Staten Island office locations but may also be performed in a hospital setting if warranted by a patient's medical conditions. Your breast augmentation will be performed under general anesthesia administered by a board-certified anesthesiologist and will take roughly an hour, but you can expect to be with us for at least 3 hours on the day of your procedure- this timing allows for pre-operative check-in, marking and prep and post-operative recovery. Immediately after your breast augmentation, you will likely feel groggy and sore. This grogginess is common after waking from anesthesia and should wear off after a few hours. Since your procedure will be done under general anesthesia, you will need someone to drive you home and we require that you have a responsible adult stay with you for the first 24 hours after surgery. You will be unable to drive for the first 24 hours after surgery and while taking any narcotic pain medication. Before leaving our facility, you and your escort will be given detailed post-operative instructions by Dr. Blaine and our nursing and anesthesia staff, which you should follow closely to ensure the smoothest possible recovery.
First 48 Hours After Breast Augmentation
Recovery time is relatively quick from a breast augmentation with Dr. Blaine. Most patients return to work and normal daily activities within 48-72 hours. Recovery does vary from patient to patient and depends on the specific surgical plan (including implant placement) and the level of activity one is returning to after surgery.
Post-Surgery Guidelines
Patients will be seen back in the office for their first follow-up appointment 24-48 hours after their surgery. Patients will wear a lightweight compression sports bra for the first four weeks post-op and are instructed to avoid exercise and heavy lifting activities during this time as well. At Blaine Plastic Surgery, all patients are sent home on the day of surgery with a complimentary bra. Your incisions are closed with dissolvable sutures and covered with a special surgical dressing that will remain in place for the first two weeks.  Patients can generally shower 24 hours after surgery, but we ask that you avoid submerging your incisions in any still water. For this reason, baths, hot tubs, ocean, and/or pools should be avoided until your incisions are fully healed (roughly 4-6 weeks). Don't worry, you can still lay by the pool or beach with family and friends as soon as you are comfortable doing so!
Initial Physical Side- Effects After Breast Augmentation Surgery
Tightness or heaviness of the chest area is very common in the first few days following a breast augmentation; this is especially true with submuscular placed implants. Patients can also experience interruptions of sensation or hypersensitivity of the breast and nipple area for the first few months following surgery- more commonly experienced in cases where incisions are made around the nipple. Sleeping upright, like in a recliner or with an extra pillow or two behind your back, is also recommended and can help to reduce the heaviness and swelling patients may feel in the first couple of days following surgery.
First Week After Surgery
Like most surgeries, full and complete recovery from breast augmentation can take several months, but most patients are able to return to their normal daily routine after just 48-72 hours. The first few days after surgery can be uncomfortable, but you should be able to easily manage any discomfort that you feel with either prescribed medication or over-the-counter Tylenol. Staying well-hydrated, well-rested and well-nourished will help support your body through the healing process as well.  Discomfort should fade after these first few days. Getting chores and household tasks done before your surgery will allow you to get as much rest as possible in the first week following the procedure. You will likely be able to return back to work a few days after surgery, but depending upon your job requirements you may have to modify your duties. Patients should also avoid exercising and heavy lifting for the first four weeks after surgery.
Breast Augmentation in New York
Breast augmentation is a chance for you to boost your self-confidence, so don't let myths about the recovery period hold you back! At Blaine Plastic Surgery, Dr. Blaine and the team will do everything in their power to make you feel comfortable with the breast augmentation process and will provide comprehensive guidelines for the quickest possible recovery. Dr. Blaine truly cares about each of her patients, their procedures, and their recovery. We offer a number of surgical and non-surgical procedures at our offices in Huntington, Long Island, NY,  Staten Island, NY and NYC all with your cosmetic goals in mind. To learn more about breast augmentations or to schedule a consultation with Dr. Blaine, please contact us today.
Posted on behalf of Blaine Plastic Surgery
HUNTINGTON, NY
775 Park Avenue Suite 205
Huntington, NY 11743
Get directions
Phone:

Fax:
STATEN ISLAND, NY
1504 Richmond Road
Staten Island, NY 10304
Get directions
Phone:

Fax:
NEW YORK, NY
535 5th Ave, 30th Floor
New York, NY 10017
Get directions
Phone:

Fax: